Regular price
R 25,000.00
Regular price
R 25,000.00
Sale price
R 25,000.00
Unit price
per
Sale
Sold out
Out of stock
Read More

Stumpjumper EVO Alloy Frameset

Let's get something clear, the Stumpjumper EVO Alloy isn't a "normal" trail bike. It's built to get gnarly, plain and simple. Featuring the same all-new design as its carbon brethren—including an adjustable head tube angle, 150mm of performance tuned travel, the adaptability of S-Sizing, and SWAT™ Door integration—in a lightweight yet tough M5 Alloy chassis, you're going to be able to bomb down trails that you thought you couldn't touch without a full-blown DH rig.

All the travel in the world is useless without the proper shock tuning and kinematics. For the new Stumpjumper EVO design, we prioritized kinematic performance. Applying lessons learned while developing the Enduro, then following that with more than 1,000 hours of field and suspension lab development, we've not only improved the pedaling performance of the Stumpjumper, but we've made it more capable, agile, and lively. We increased anti-squat, so the suspension better resists pedal bob, and we further improved bump performance on square-edge hits. Bottom line? This thing shreds trails, not legs.
The S-Sizing geometry of the new Stumpjumper EVO is our most progressive yet. Long, low, slack, short offset fork, steeper seat tube angle – these are requirements for modern progressive riding. But not everyone jibs the same way, which is why the geo on the new Stumpjumper EVO is fully adjustable with six different settings. You can adjust the BB height by 10mm, you can adjust your head angle by two-degrees, and you can make these adjustments independently of each other. Finally, if you want to go full-party mullet-mode, the EVO lets you run a 27.5-inch rear wheel mated with a 29-inch front.
Rider-First Engineered™ frames use a size-specific approach to ride characteristics that ensures benchmark handling and flawless performance, regardless of frame or rider size. Whether you're a jump-happy grom riding an S1, or a DH-fiend giant in need of the lengthy S6, you'll experience the same ride traits – rail-sharp cornering and balanced front and rear stiffness – at the lightest-possible weight.
We introduced the SWAT™ door on the Stumpjumper in 2016, adding room IN your frame for those "oh sh**t" necessities like pumps and spare tubes, and immediately rendering jersey pockets redundant. With the new Stumpjumper, we have increased the volume and added a SWAT™ Bladder, giving you an extra 22oz of water storage – the same size as a small water bottle – hidden in your downtube.
Share
View full details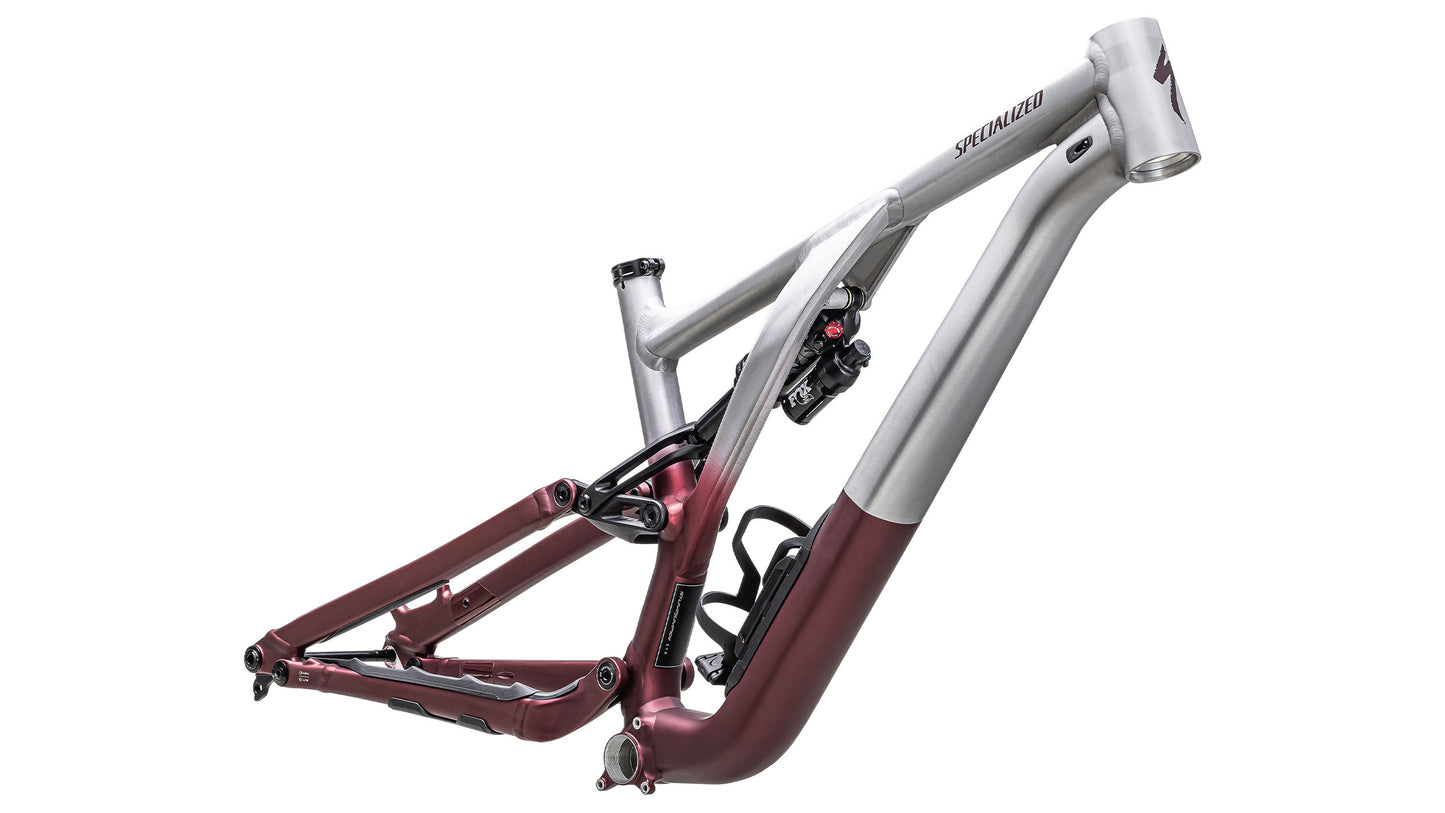 Frame
M5 Alloy chassis and rear-end, asymmetrical design, 29" Trail Geometry with S-Sizing, SWAT™ Door integration, head tube angle adjustment, horst pivot BB adjustment, threaded BB, fully enclosed internal cable routing, 12x148mm dropouts, sealed cartridge bearing pivots, replaceable derailleur hanger, 150mm of travel
SWAT
SWAT™ Door integration
Rear Shock
FOX FLOAT X Performance, Rx Trail Tune, EVOL Air sleeve, 2-position lever w/ LSR adjustment, S1:210x50mm, S2-S6:210x55mm
Seat Binder
Alloy, 38.6mm
| | S1 | S2 | S3 | S4 | S5 | S6 |
| --- | --- | --- | --- | --- | --- | --- |
| Crank Length | 165mm | 170mm | 170mm | 170mm | 170mm | 175mm |
| Stack | 614mm | 617mm | 626mm | 635mm | 644mm | 654mm |
| Reach | 410mm | 428mm | 448mm | 475mm | 498mm | 528mm |
| Headtube Length | 95mm | 95mm | 105mm | 115mm | 125mm | 135mm |
| Headtube Angle | 64.5° | 64.5° | 64.5° | 64.5° | 64.5° | 64.5° |
| BB Height | 335mm | 340mm | 340mm | 340mm | 340mm | 340mm |
| BB Drop | 40mm | 35mm | 35mm | 35mm | 35mm | 35mm |
| Trail | 131mm | 131mm | 131mm | 131mm | 131mm | 131mm |
| Fork Length (full) | 561mm | 571mm | 571mm | 571mm | 571mm | 571mm |
| Fork Rake/Offset | 44mm | 44mm | 44mm | 44mm | 44mm | 44mm |
| Front Center | 734mm | 756mm | 780mm | 809mm | 838mm | 873mm |
| Chainstay Length | 441mm | 441mm | 441mm | 441mm | 451mm | 451mm |
| Wheelbase | 1172mm | 1195mm | 1219mm | 1249mm | 1288mm | 1322mm |
| Top-tube Length (horizontal) | 541mm | 564mm | 590mm | 623mm | 647mm | 679mm |
| Bike Standover Height | 746mm | 749mm | 757mm | 760mm | 784mm | 792mm |
| Seat Tube Length | 385mm | 385mm | 405mm | 425mm | 445mm | 465mm |
| Seat Tube Angle | 78° | 77.6° | 77.2° | 76.9° | 77° | 77° |
| Max Seatpost Insertion | 190mm | 190mm | 210mm | 230mm | 250mm | 270mm |
| Min Seatpost Insertion | 100mm | 100mm | 100mm | 100mm | 100mm | 100mm |