Regular price
R 99,000.00
Regular price
R 99,000.00
Sale price
R 99,000.00
Unit price
per
Sale
Sold out
CLICK HERE TO VIEW PICK UP IN STORE AVAILABILITY

Bell's Cycling

Shop1 A Riverside Junction, R40,Riverside, Nelspruit, 1200

Trading Hours: Mon - Fri: 08:00am to 17:00pm | Sat: 09:00am to 14:00pm | Sun: Closed
Read More

S-Works Tarmac SL8 Ready to Paint Frameset

Nothing is faster than the Tarmac SL8 thanks to a combination of aerodynamics, lightweight, and ride quality previously thought impossible. After eight generations and over two decades of development, it's more than the fastest Tarmac ever - it's the world's fastest race bike. Your legs up for it?

Aerodynamics or lightweight alone don't win races - speed is what matters. Delivering that speed requires creating an uncompromising combination of aerodynamics, lightweight, stiffness, and compliance. Through race simulations using real world data our Ride Science team knows the Tarmac SL8 is the fastest race bike ever made on the routes that matter - 16.6 seconds faster over 40km, 128 seconds faster over Milan San Remo, 20 seconds faster over the legendary Tourmalet climb.

AERO IN EVERYTHING: We're putting aero where it matters - the leading edge - not just where it looks good. In the process we've created our most aerodynamic road bike ever. Yes, it's more aero than the Venge. Clean air is optimized for maximum advantage with the Tarmac's new nose cone - the Speed Sniffer. By moving the steer tube back - the tube that determines head tube width - the leading edge of the head tube can be much sharper, delivering a much lower drag shape. Utilizing new UCI rules, the Tarmac SL8 has the narrowest, most aero seat post we've ever made ensuring fast moving, dirty air around the legs can flow back more cleanly. Doesn't victory smell sweet?
MINIMUM WEIGHT, MAXIMUM AERO: Tarmac SL8 took learnings from Aethos to be easily built at the UCI minimum with a full aero set up. The team delivered a mind bending, scale tickling 685 gram frame - 15% lighter than the Tarmac SL7 and lighter than anything on else on the World Tour*. With the ability to make lightweight a top priority in the down tube, seat tube, and rear of the bike lessons from Aethos were applied. The frame's shape carries load so efficiently that extra carbon stiffness layers become redundant. *Unless of course you count the time Kasper Asgreen raced our 585 gram Aethos frame during a Tour stage.
GOES LIKE HELL, RIDES LIKE HEAVEN: With massive gains in stiffness-to-weight - an improvement of 33% over the SL7 - the Tarmac SL8 takes legendary handling, aggressive responsiveness and World Championship proven geometry to the next level. The bike is stiffer at the pedals, more precise at the bars, and combines it with a compliant ride in the saddle that sets a new benchmark for race bike comfort. Thanks to our Rider-First Engineering, every rider, regardless of size, gets the same unprecedented ride quality and handling. In the saddle the Tarmac SL8 delivers 6% more compliance, floating over rough road with a supple feel unique in the high strung world of race bikes. Tarmac's proven geometry and 32mm tire clearance are identical to the SL7, ensuring easy adaptation and the versatility to run higher volume tires when needed.
BEYOND GENDER: There can be more difference between two male cyclists than between a male and female. Gender alone doesn't provide nearly enough data to specialize and that means creating male or female bikes is arbitrary and outdated. Every rider can get the next level advantage of Tarmac SL8. It's time to go Beyond Gender.
68mm threaded bottom bracket, flat mount disc brakes, and no-hassle seamless integration — the S-Works Tarmac SL8 Frameset is the ultimate starting point for your dream build.
The Satin Carbon/Snake Eye colorway is the lightest finish we offer on an S-Works Tarmac SL8 Frameset. It's also the perfect canvas if you are craving custom paint. This is our RTP—Ready To Paint—colorway, allowing you to imagine the build, colors, and design of your dreams, then work with a custom painter to make it a reality.
Share
View full details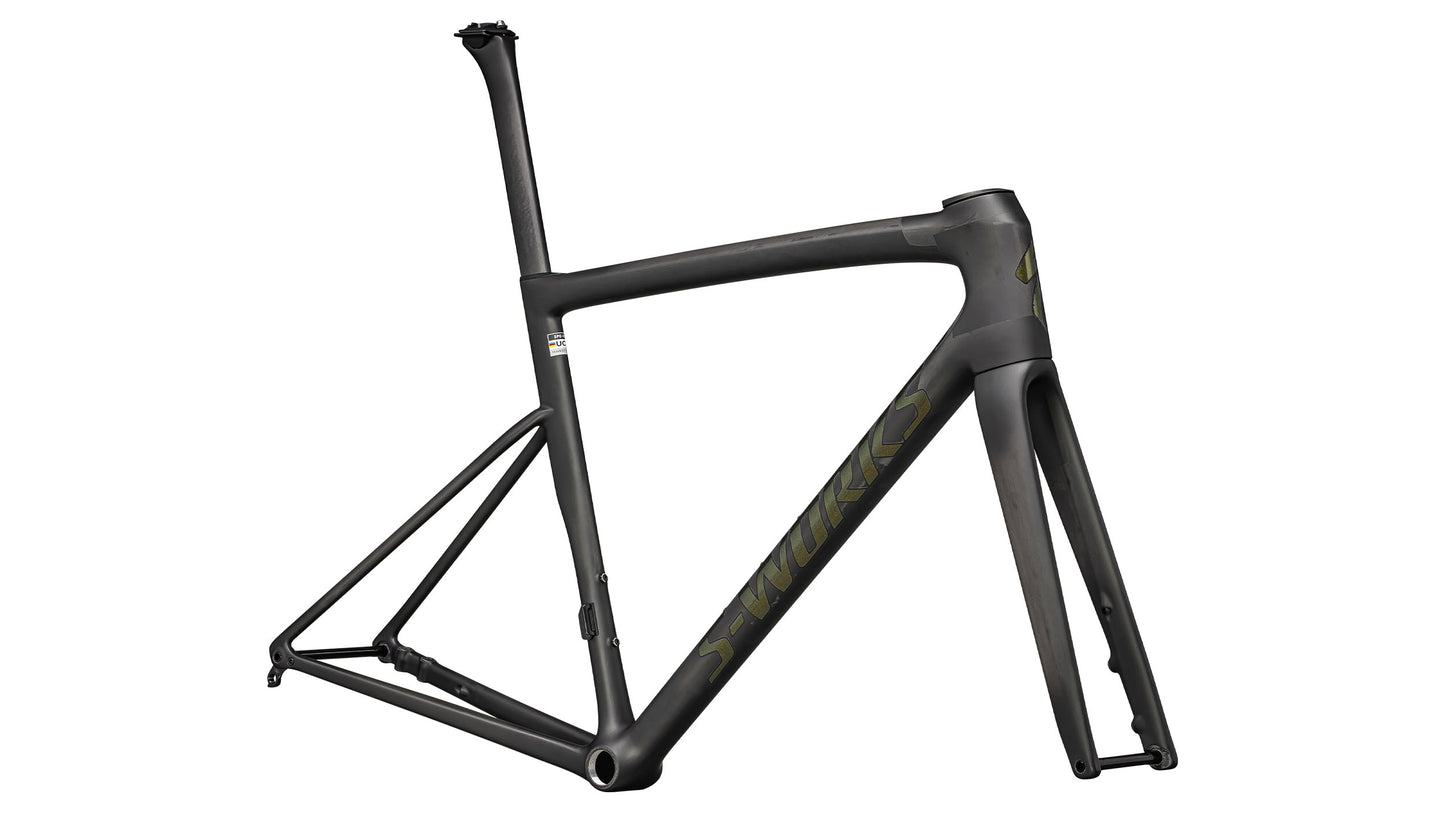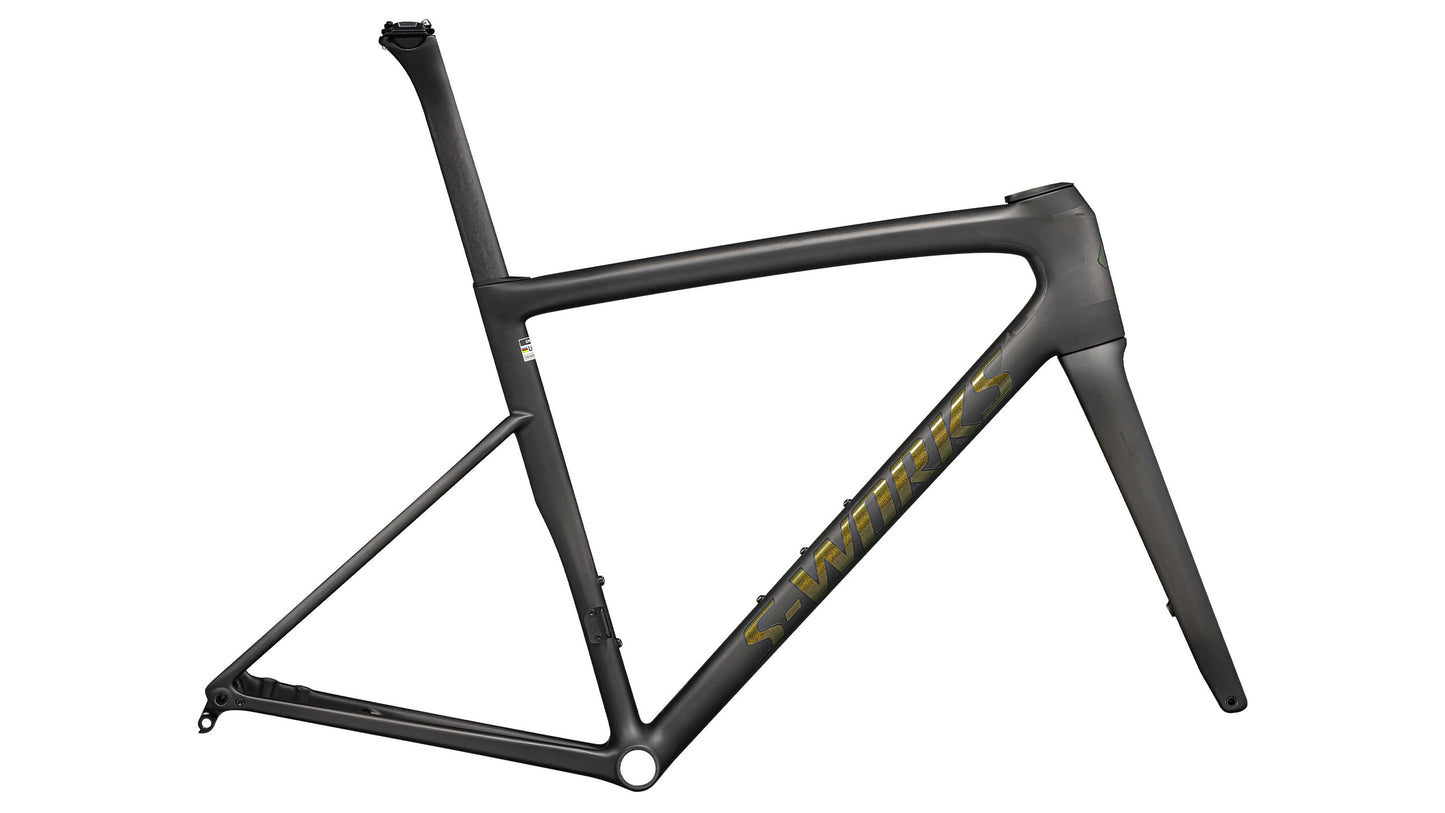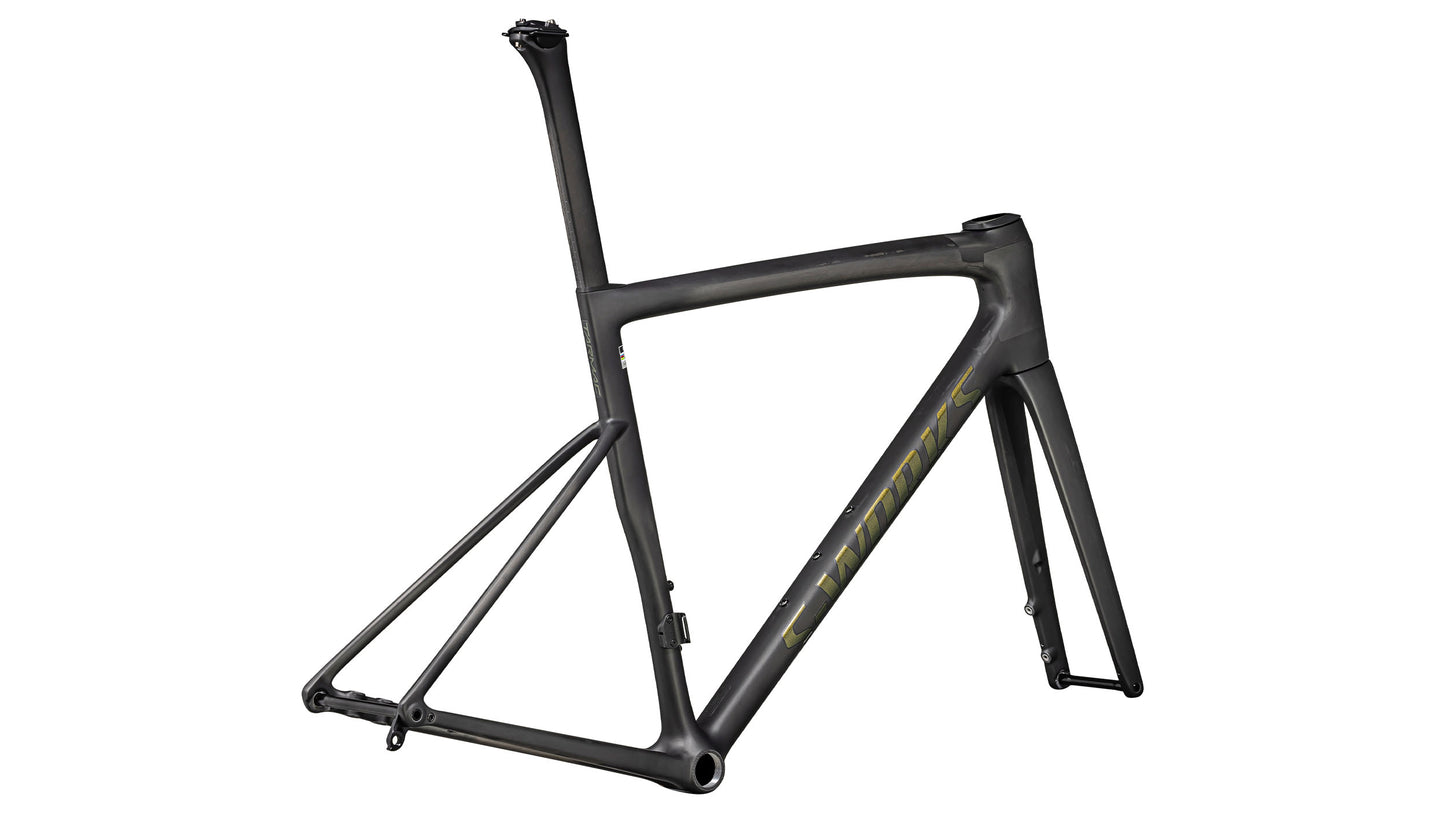 WEIGHT
Weight
1.37 kg (3 lb, 0.3 oz)
Weight Size
56cm, as pictured
SUSPENSION
Fork
S-Works FACT 12r Carbon, 12x100mm thru-axle, flat-mount disc
FRAMESET
Frame
S-Works Tarmac SL8 FACT 12r Carbon, Rider First Engineered™, Win Tunnel Engineered, Clean Routing, Threaded BB, 12x142mm thru-axle, flat-mount disc. Satin Carbon/Snake Eye colorway. Decals over a clear coat for easy removal if custom painting is desired. Extra decals are provided with the frame set. The limited warranty provided by Specialized will no longer apply to your paint and graphics upon custom painting. Paint and graphics warranty with Specialized is voided upon custom painting. 685g frame.
COCKPIT
SeatPost
S-Works Tarmac SL8 Carbon seat post, FACT Carbon, 15mm offset
Seat Binder
Tarmac integrated wedge
* Weights based on production painted frames as pictured. Actual weights will vary based on colourway, frame size, and component variation. Specifications are subject to change without notice.
| | 44 | 29 | 52 | 54 | 56 | 58 | 61 |
| --- | --- | --- | --- | --- | --- | --- | --- |
| Seatpost Length | 300mm | 300mm | 300mm | 380mm | 380mm | 380mm | 380mm |
| Frame Stack | 501mm | 514mm | 527mm | 544mm | 565mm | 591mm | 612mm |
| Frame Reach | 366mm | 375mm | 380mm | 384mm | 395mm | 402mm | 408mm |
| Stack to Stem | 509mm | 522mm | 535mm | 552mm | 573mm | 599mm | 620mm |
| Reach to Stem | 363mm | 372mm | 377mm | 381mm | 393mm | 400mm | 406mm |
| Head Tube Length | 99mm | 109mm | 120mm | 137mm | 157mm | 184mm | 204mm |
| Head Tube Angle | 70.5° | 71.75° | 72.5° | 73° | 73.5° | 73.5° | 74° |
| BB Height | 266mm | 266mm | 266mm | 268mm | 268mm | 268mm | 268mm |
| BB Drop | 74mm | 74mm | 74mm | 72mm | 72mm | 72mm | 72mm |
| Trail | 71mm | 63mm | 58mm | 58mm | 55mm | 55mm | 52mm |
| Fork Length, Full | 370mm | 370mm | 370mm | 370mm | 370mm | 370mm | 370mm |
| Fork Rake/Offset | 47mm | 47mm | 47mm | 44mm | 44mm | 44mm | 44mm |
| Front Center | 572mm | 574mm | 577mm | 579mm | 592mm | 606mm | 613mm |
| Chainstay Length | 410mm | 410mm | 410mm | 410mm | 410mm | 410mm | 410mm |
| Wheelbase | 970mm | 973mm | 975mm | 978mm | 991mm | 1006mm | 1013mm |
| Top Tube Length, Horizontal | 496mm | 509mm | 531mm | 541mm | 563mm | 577mm | 595mm |
| Bike Standover Height | 723mm | 735mm | 746mm | 768mm | 786mm | 808mm | 834mm |
| Seat Tube Length | 433mm | 445mm | 456mm | 473mm | 494mm | 515mm | 545mm |
| Seat Tube Angle | 75.5° | 75.5° | 74° | 74° | 73.5° | 73.5° | 73° |